INTRODUCTION
BOOK A CONSULTATION
CASE STUDY OVERVIEW
The Beauty Academy was a new service for a previous client. Terry Hadley had been a long standing client of our original web design company BTB Media. We built his e-commerce store and re-branded his online presence. After discovering the effectiveness of Facebook ads and in large part the success from a campaign with GBWear Europe, Renaldo decided to propose a Facebook ad campaign to Terry.
Terry had a previous encounter with Facebook ads and was very skeptical of it's validity and effectiveness. While reluctant, he understood that his market were most likely among the 1.3 billion daily active users and the principle position Renaldo presented: "your customers are on Facebook somewhere and do pay attention to the news feed. This means we can advertising to them."
What was interesting about this campaign is what we were tasked to sell. A government-backed scheme known as the 24 plus scheme. It was unknown to the market as it had no google search. Google is the gold standard for validating market awareness. This lack of search volume demonstrated that nobody was even aware of it. A bad sign for us.
Our campaign now became more than just a lead generation campaign, as we had to compound it with awareness on the same budget. Each lead to Terry was going to be worth £3,499. Terry reluctantly agreed to spend £1,000 on ads. We built the ad campaign, created a redirected telephone number so we could track call volume and built a targeted lead generation landing page. The results were a milestone revelation for us.
We smashed it. We generated 341 leads for just £1000 spent. And these were red hot leads coming through a pathway of a very clear proposition as you can see below. This small spend gave The Beauty Academy £1.1million of red hot leads.
SERVICES PROVIDED
Landing Page Design & Development
Copywriting: Email & Landing Page
Autoresponder Funnel Assembly
LANDING PAGE CREATIVE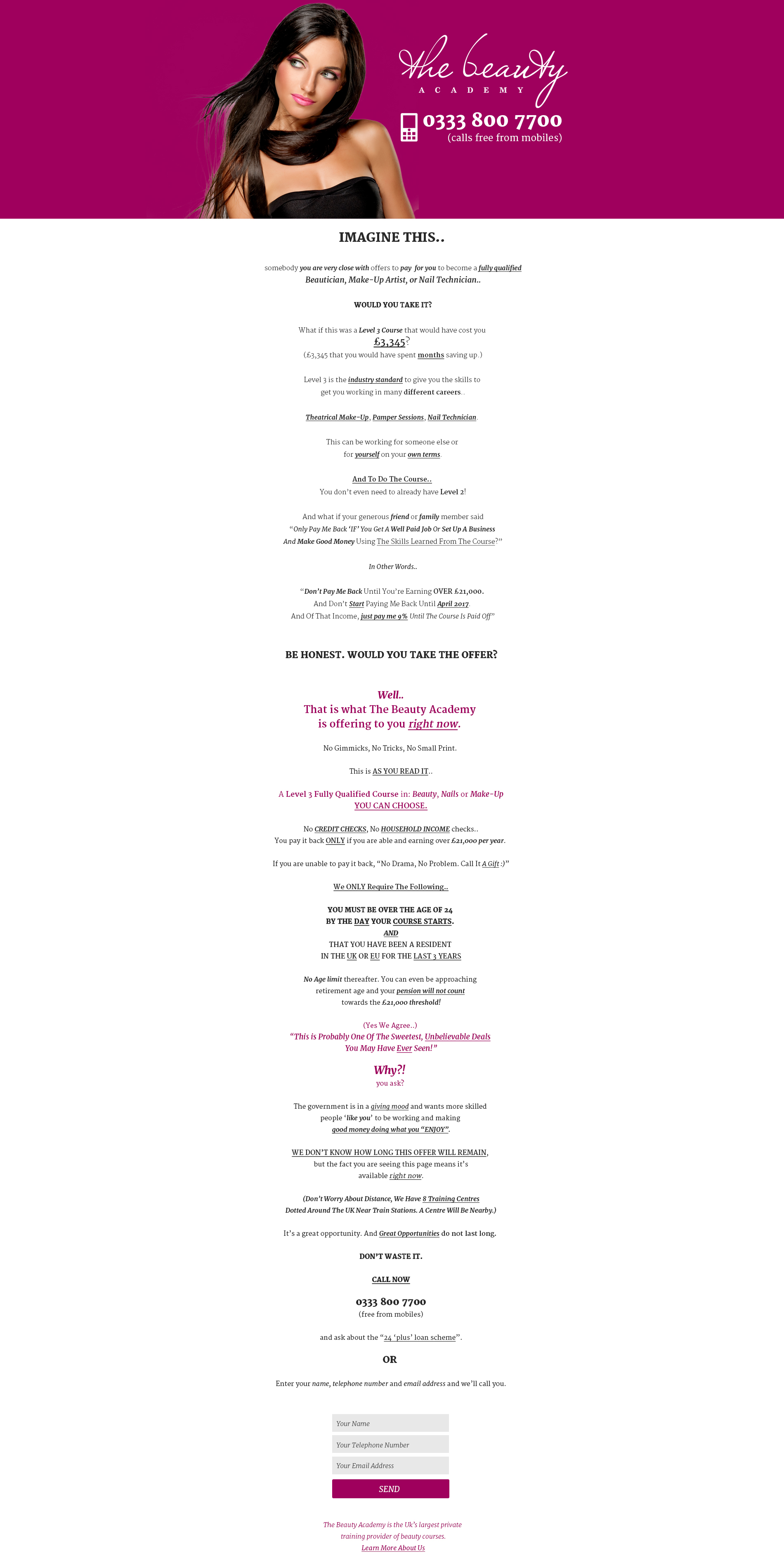 AD CREATIVES
AD REPORTS
TESTIMONIAL: Terry Hadley
Renaldo is a dynamo; a generator of leads through Facebook. A really genuine and at the same time professional man who takes a great interest in whoever he is working with. This 'extra mile' of involvement helps to produce great results and I recommend him to any business requiring increased exposure and leads.